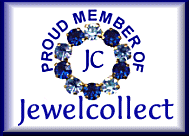 JewelCollect Member Sites
A Joolfiend's Treasure
Owner: Gail Pullin
P.O. Box 2762
Cedar Hill, TX 75106-2762
A Joolfiend's Treasure
What is a Joolfiend?, you ask. Simply put, any individual with a high regard for costume jewelry of the past. For example, do you find yourself drawn to glittery items once worn in the 30's, 40's, 50's, 60's, even 70's? Do you catch yourself watching old movies in hopes of glimpsing some fabulous jools from days gone by? Have you been hording costume jools passed down through your family? Have you noticed your jewelry boxes overflowing to your dresser tops, bathroom counters, maybe even in boxes under your beds? Well guess what, you too may be a Joolfiend!! Welcome to the madness.
Please take a moment to dig in my treasures and see if any of these pieces of vintage costume jewelry will brighten your day, or bring pleasant feelings of nostalgia. Simply scroll down to Joolfiend's Directory for a listing by category.
To place an order, please send an email along with the item number. Email access is available at the bottom of each page for your convenience. NOTE: Ordered items will be held out of stock for 10 days. If payment is not received within those 10 days, items will be returned to stock (unless other arrangements have been made with Joolfiend's owner at time of sale). Joolfiend's pays for shipping & insurance on all orders over $50 within the Continental U.S. Sales tax applies to buyers living in the state of Texas.
Joolfiend's strives for customer satisfaction! Thanks for visiting!! The original Joolfiend.
Joolfiend's Directory

This page has been visited
times.